About The Keys To Success Series
The Keys To Success Series highlights distinguished business leaders through seminars, interviews and publications. The mission of the Series is to inspire young entrepreneurs to achieve their dreams. The Series not only inspires but provides viewers with the strategies and best practices to reach their goals. The Keys To Success Series gives speakers the opportunity to share their unique story on how they got to where they are, the principals and practices they have implemented and the valuable lessons they have learned along their journey to success.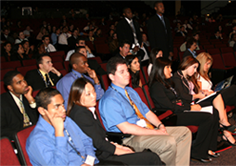 About The Founder
The Keys To Success Series was created by internet entrepreneur Geno Roefaro to inspire college students and young business professionals to accomplish their dreams by hearing the success stories of others. Geno has founded multiple web and mobile app companies and throughout his career has consulted thousands of businesses on how to succeed with digital media. Today Geno is the President of
WebDevelop.com
which helps companies and entrepreneurs grow their business online. To learn more about Geno Roefaro visit:
GenoRoefaro.com
.
Our Story
Geno Roefaro came up with the concept for the Series in 2007 while he was a college student studying at the Barry Kaye College of Business at Florida Atlantic University. The Series started off with motivational seminars and networking events to inspire his fellow classmates and get them connected with the business community. Geno realized early on during his time at FAU that many college students are not certain what they want to do in their careers, nor were they being taught from actual business leaders and most importantly, students were not daring to dream big. Geno saw this as an opportunity to both inspire his classmates to think differently while also providing them the opportunity to meet with hundreds of business professionals after his seminars. Today the Keys To Success Series focuses more on conducting in-person interviews that will last forever.